TEACHER AMBASSADOR PROGRAMME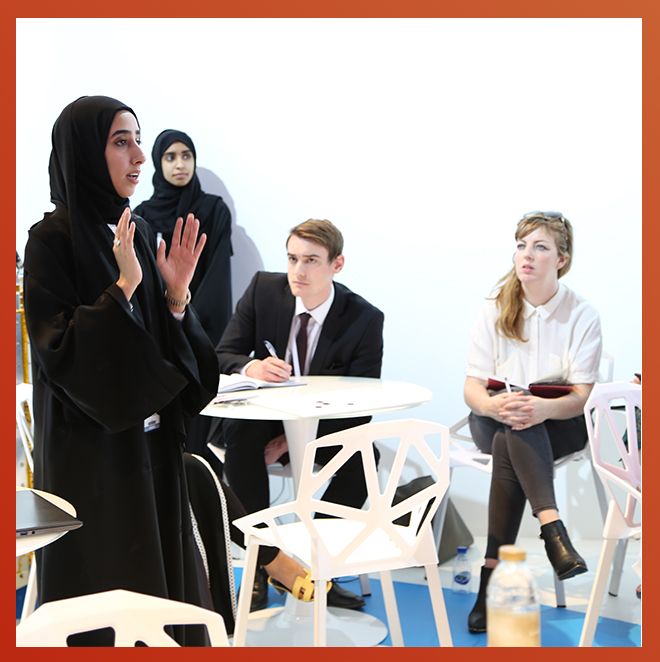 Details
The EMM Teacher Ambassador Programme was established in October 2015 to focus on enabling teachers from all school levels to take part in EMM. The Teacher Ambassador Programme aims to:
Create a dynamic community for STEM teachers to represent their schools in EMM initiatives.
Enable and equip ambassador teachers with knowledge and material required to educate the next generation of scientists and engineers.
Support hands-on learning to motivate students to continue their education in the field of science.
The programme includes interactive space-related workshops and training, STEM material and kits to support classroom activities, and now announcing its first competition.
The Competition
The programme also includes a competition titled "Newton's STEM Challenge", which aims to utilise teacher's creativity in the process of activities development. In this first version the teachers will need to design a game, experiment, or activity to explain Newton's laws of motion based on their current curriculum learning objectives leaving the target age open to them to decide for their design.
Competition Brief
The competition opens registration doors for STEM teachers from public and private UAE schools. Educators will apply Newton's Laws of Motion to design a game, experiment, or video based on the curriculum and age group they are teaching.
Competition Objectives
Encourage and inspire teachers and students to research and do scientific experiments in various STEM fields.
Involve teachers in developing educational materials provided to students and giving them the opportunity to innovate and to be part of the Emirates Mars Mission.
Introduce new applied educational activities/material for the scientific curriculum of the various school levels in the country that will help to develop students' abilities and skills.
Target Participants STEM teachers from UAE Public and private schools.
Competition Theme Newton's Law of Motion
Competition Criteria
All applicants must be STEM teachers. Individual and group submissions are accepted.
Applicants can be from either public or private schools.
The language of the submission can be in Arabic or English.
The proposal should include all three Newton laws of motion.
The proposed ideas can be in the form of videos, infographics, activities, experiments, workshops or any other creative methods. (all required materials must be included in the submission)
The proposed ideas should correspond to at least one academic year the applicant is teaching.
The proposed ideas should be aligned with the learning objectives of STEM curriculums from Year 2 / Grade1 up to Year 13 / Grade 12.
Learning Objectives of the Proposed Idea
To foster creativity and critical thinking among students.
To give knowledge and raise awareness and interest among school members regarding space science, the benefits of space research and how essential they are nowadays. To encourage schools to include space science and exploration in their syllabus because of its importance and various benefits.
To motivate young students to choose space science as their future study and career.
Competition Award
Selection of three winners:
First place – AED 15000 Cash
Second place – AED 8000 Cash
Third place – AED 5000 Cash
*Note: the group submission is counted as one submission and the prize money will be divided equally among group members.
All the three winning ideas will be developed as educational material for either the academic curriculum or Emirates Mars Mission workshops with copyright reserved.
Contact Us:
For any inquiries please email us on emm.edu@mbrsc.ae
Teacher Ambassador Competition Evaluation