2022 RESEARCH EXPERIENCE FOR UNDERGRADUATES(REU) PROGRAM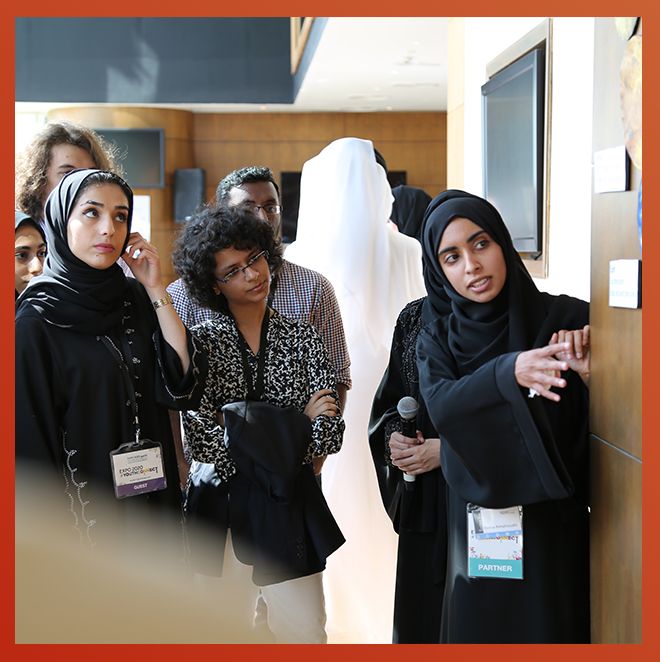 Program Overview
The Research Experience for Undergraduates (REU) program is one of the noble science outreach programs under the Emirates Mars Mission (EMM) that offers Emirati undergraduates under STEM fields a research opportunity at the Mohammed Bin Rashid Space Centre (MBRSC) and with EMM's partners in the United Arab Emirates (UAE), United States of America (USA) and France. Accepted students will spend their summer of 2022 mentored by the EMM science team or by international scientists who will guide them in Mars related research projects including data analysis and systems modeling.
Prior to the start date of the REU program, a mandatory training course known as the REU Boot Camp will be held for accepted students to gain foundation in space science, such as research and programming. It is mandatory that the students attend all 3 days of the boot camp. Following that, the student will be assigned a project, mentor and tasks to lead to publishable results based on the specific research question assigned. The projects are bounded accordingly so the student has weekly milestones to achieve conclusions. By the end of the program, the students will present their research findings to the EMM science team.
Accepted students to EMM's REU program for 8-10 weeks will have their research experience in one of the following locations:
1. MBRSC Location : Dubai, UAE Tentative Dates: 6 June - 12 Aug Virtual or In-person : To be decided
2. The National Space Science and Technology Center (NSSTC) Location : Al Ain, UAE Tentative Dates: 30 May - 29 July Virtual or In-person : To be decided
3. Laboratory for Atmospheric and Space Physics (LASP) Location : University of Colorado Boulder, USA Tentative Dates: 6 June - 12 Aug Virtual or In-person : To be decided Click here for more information about LASP's REU program
4. Space Sciences Laboratory (SSL) University of California, Berkeley, USA Tentative Dates: 7 June - 13 Aug Virtual or In-person : To be decided Click here to know more information about SSL's ASSURE program
5. Northern Arizona University (NAU) Location : Flagstaff, Arizona, USA Tentative Dates: 31 May - 03 Aug Virtual or In-person : To be decided Click here to know more information about NAU's REU program
6. Laboratoire de Météorologie Dynamique (LMD) Location : Sorbonne University Paris, France Tentative Dates: 25 May - 30 July Virtual or In-person : To be decided
Students' Expectations
During the program, students are expected to:
Attend all days of the REU Boot Camp prior to the start date of the program.
Be present on all days of the REU program, unless laboratory/university is closed for an official holiday or if the student requests an emergency or medical leave.
Provide bi-weekly progress reports to EMM REU Management Team highlighting the work that they have done.
Be fully invested in the task assigned, and work for 40 hours per week.
Utilize heavily their programming skills in their assigned tasks.
Become an integrated member of the team and actively work with mentors.
Prepare presentations, scientific papers and posters as required by mentors.
Represent their country and culture in a positive manner.
Prepare a presentation for the EMM science team.
Benefits of Joining the Program
Upon successfully completing the program, distinguished students could potentially be offered a full-time scholarship to pursue an advanced degree in science.
Distinguished students could be offered the opportunity to continue working with EMM science team after program completion.
Some students may use the research they have conducted in this program as an initial step to their senior thesis project at their home universities.
Depending on your home university, it is possible to have students make use of the program for independent study hours that can be counted as an internship.
This research opportunity is a great start for any graduate level science or engineering program the student may apply to in the future. Many students who attend the program have very lucrative careers.
Housing
Students selected to join international programs will be provided with flight tickets, accommodation, transportation and compensation throughout the program. Female students are allowed to have one travel companion to assist them during their stay.
Application submission guidelines
Interested UAE nationals in planetary science and astronomy and are sophomores, juniors and seniors (who are not graduating earlier than the Fall 2022 semester) majoring in physics, chemistry, mathematics, environmental science, computer science, computer engineering, chemical engineering, aerospace engineering, electrical engineering and other STEM fields are encouraged to apply to this program by January 15, 2022 the latest.
Before you register, please ensure that the following documents are ready to ensure that you have successfully registered for the REU program:
Emirates ID (front and back)
University transcript
2 recommendation letters - Click on the FAQ link below to know what is a recommendation letter.
Registration
Registrations Closed
To inquire about the REU program, contact reu@mbrsc.ae. If you have any questions about the REU program, please download the FAQ document.